I've been reading Romance novels for 2-3 years. They are fun, usually quick, reads and they have happy endings. Some are the traditional historical romance but I've also branched into the paranormal sub-genre (werewolves and vampires and demigods, ooooh, sigh). This all started when I found the DVD Lost in Austen at the library. Loved it and watched it 4-5 times before I returned it. The progression then went from re-reading some of Jane Austen's novels to Austen-related books: sequels, variations, modern day adaptations, and so on. That (and my Nook) led me to Romance in general.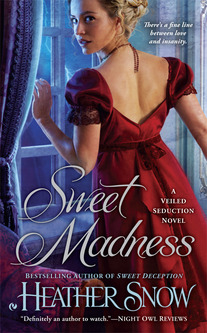 Recently I won a giveaway on Goodreads for Sweet Madness, a Regency era romance, by Heather Snow. I rate almost all my reading on Goodreads but I haven't written a lot of reviews. I did for this, seems only fair after winning the book.
The story is not a typical Regency romance. The hero, Gabriel Devereaux, served in the Napoleanic wars and suffers from battle fatigue (now known as PTSD). The heroine, Penelope Bridgeman, married his cousin, who had his own mental issues and then died after only a few months of marriage. Penelope turned from her loss to studying mental disorders and helping soldiers with battle fatigue. As their story begins, Gabriel has entered an asylum after his issues have escalated and he's started having episodes of mania with hallucinations and violence. Penelope commits to saving Gabriel, convinced that he is not becoming truly insane, and their feelings and connection grow.
This is a lovely book. It's not all sweet: it deals with things that are harsh and heartbreaking. But that is all balanced, actually overtaken, by warmth, decency, generosity, and, of course, love.
The story has depth. This is about two people who, while still young, each had hard, tragic experiences, and then worked to move on with their lives. They followed their instincts and found ways to cope. They've done much good helping others but in doing so have neglected their own healing. It's together, as a couple, helping and caring for each other, that they will now begin to fully heal.
And the romance is well done. Penelope and Gabriel are both strong, intelligent, and admirable people. Their romance never feels forced or false; the author shows us its natural progression from the very start of her story.
This is the third book of a series but the first book I've read by the Heather Snow (definitely not the last). It never seemed like I was missing anything at all in the story jumping into the series at this point. The story grabbed me from the start and held me til the end.
Heather Snow's website, so you can check out her series is here